The used book sales are always a key contribution to the Friends' annual donation the VPL. After a record-breaking book sale year in 2019, our hopes were high last January, as 2020 started out strong with the winter used book sale raising $15,842.

For many families with kids and those in their extended circle of family and friends, the COVID-19 pandemic has been a challenge. There are fewer ways to visit and support parents when they need it the most. Friends of the VPL offer some suggestions below to connect through books to those "born digital."

We need your help. For the first time in 25 years, we are in a position where we will not be able to provide the level of support the VPL needs from us due to the pandemic. That is why we are asking for help to do something bold…
Latest Entries
In light of the situation surrounding COVID-19, book'mark will be closed and will will no longer be accepting book donations at this time to protect our volunteers and the community.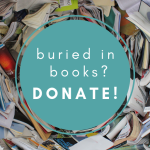 Just Marie Kondo'd your books? Friends is here for you! From now until March 8, donate your books (and more!) at the Fraserview, Kitsilano and Renfrew Branches, as well as two locations at Central Library. 
If January is about personal growth, then February should be all about growing with your loved ones! VPL has many ways you can spend time with the people that matter this month.
Latest Tweets