Friends of the VPL Anti-Racism Statement and Commitment The past few months have reactivated and renewed our collective need and urgency to address racism and violence towards BIPOC communities. While many of us are only starting to become aware of what has been a lived reality for BIPOC folks, their experiences extend as far back […]

As fall sets in, this is a good time to reflect on any personal anti-racism education you committed to during the spring to support the Black Lives Matter movement. Whether you've kept up or fallen short of your goals, consider learning more. The Friends of the Vancouver Public Library Board has compiled the following resources to support […]

The Board of the Friends of the Vancouver Public Library is looking for a new Treasurer. The Treasurer is a member of the Board and is responsible for financial & tax reporting, financial statement preparation, cheque signing, and other cash management duties. Details in the post.
Latest Entries
We greatly care about the health and safety of both our fellow book lovers and our hardworking Friends volunteers. Due to the COVID-19 virus and the uncertainty as to when the Central Library will reopen, the upcoming Spring Used Book Sale (May 28-30) has been cancelled.
In light of the situation surrounding COVID-19, book'mark will be closed and will will no longer be accepting book donations to protect our volunteers and the community.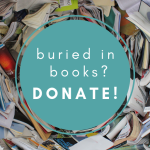 Just Marie Kondo'd your books? Friends is here for you! From now until March 8, donate your books (and more!) at the Fraserview, Kitsilano and Renfrew Branches, as well as two locations at Central Library. 
Latest Tweets