The Vancouver Writers Fest is back in full force this October, bringing a slew of Friend member's favourites to its stages, both in-person and online.

On Sept 30, book'mark will be closed to mark the first National Day for Truth and Reconciliation. Friends encourages everyone to visit the VPL website to  learn more about the Truth and Reconciliation Commission's 94 calls to action and the impact of residential schools.

Are you ready, set, go…for back to school? Get everything you need to make this school year a success at book'mark, the library store! 
Latest Entries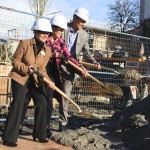 Friends president Judith Neamtan and past-president Corrine Durston attended the sunny January goundbreaking ceremony for the nə́c̓aʔmat ct Strathcona library branch.
The Stay at Home and Read a Book Ball is our yearly special fundraiser. We ask you to please consider donating the money that you would have spent on a night out to support your library.  Friends of the VPL raises money to support innovative programs, buy supplies, furniture and artwork for our library. We […]
Latest Tweets