A little too soon to browse? Let book'mark handle the shopping for you!

But you'll still find used books at book'mark.

book'mark will reopen on July 14! Find out how we are keeping you safe in this post.
Latest Entries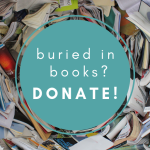 Just Marie Kondo'd your books? Friends is here for you! From now until March 8, donate your books (and more!) at the Fraserview, Kitsilano and Renfrew Branches, as well as two locations at Central Library. 
If January is about personal growth, then February should be all about growing with your loved ones! VPL has many ways you can spend time with the people that matter this month.
Every book lover will find something special at the Friends of the Vancouver Public Library's Winter Used Book Sale this January!
Latest Tweets