Snuggle into fall with book'mark's huge end of season sale.

Fall is coming and many members are getting ready for a quiet season staying cozy on the couch. The VPL is gradually reopening their branches, but some members may not be able to visit. No need to despair! Here are 6 ways to find your book bliss without a visit to the VPL.

A little too soon to browse? Let book'mark handle the shopping for you!
Latest Entries
We greatly care about the health and safety of both our fellow book lovers and our hardworking Friends volunteers. Due to the COVID-19 virus and the uncertainty as to when the Central Library will reopen, the upcoming Spring Used Book Sale (May 28-30) has been cancelled.
In light of the situation surrounding COVID-19, book'mark will be closed and will will no longer be accepting book donations to protect our volunteers and the community.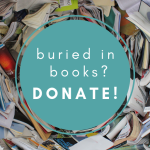 Just Marie Kondo'd your books? Friends is here for you! From now until March 8, donate your books (and more!) at the Fraserview, Kitsilano and Renfrew Branches, as well as two locations at Central Library. 
Latest Tweets