Just Marie Kondo'd your books? Friends is here for you! From now until March 9, donate your books (and more!) at the Kitsilano, Oakridge and Renfrew Branches, as well as two locations at Central Library. 

Think you know everything about the VPL? Check out these unique collections available to everyone with a library card.

For Friends members and volunteers, 2018 has a long list of highlights. Take a look through the year by the numbers…
Latest Entries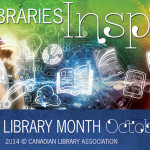 Have libraries made a difference to you? The Canadian Library Association wants to hear your story for Canadian Library Month this October! For more information and to submit a story go to Share my story or e-mail mystory@cla.ca.
Click here for our Comic Book Price List!
We received this wonderful thank you letter and this lovely collage from Samantha Mills, the VPL Reading and Writing Book Camp Coordinator. In 2014 Friends donated $2500 towards making the camp a reality. It is great to see all those happy faces!
Latest Tweets